Women's Organic Long T-Shirts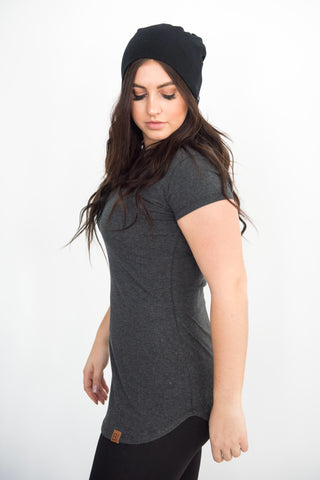 The Organic Long T-Shirts are custom designed for the perfect fit and perfect length. We have pre-shrunk the Organic Cotton fabric so what you see is what you get when it comes to length and fit. 
The V-neck gives that open neck look, while the sides come in towards the mid rib area to give a feminine look and feel in a comfortable t-shirt. Whether you have a short torso or long, this shirt fits perfectly for all body types. 
The Organic Cotton is extremely soft and comfortable with the perfect amount of stretch (95% cotton, 5% spandex).
Our real leather label is a soft brown leather that ads that extra quality detail on our shirts. Feel free to wash and dry as you please with these shirts.
Besides the ridiculous amount of comfort, our long T-shirts are perfectly paired for those days when you want to just wear leggings and be comfortable to the max. You can dress these shirts down with converse runners and tights or ripped jeans. You can also dress them up with a nice leather jacket and tights with high boots or heels.
Checkout our kids Organic Long T-shirts so you can match with the little ones in your lives.
Wash these shirts inside out with like colours, cold water, and either hang to dry or dry them in the dryer. Cool iron is recommended and avoid ironing the leather label. They are preshrunk so you don't have to worry about them changing in size or fit.
---
More from this collection
Sale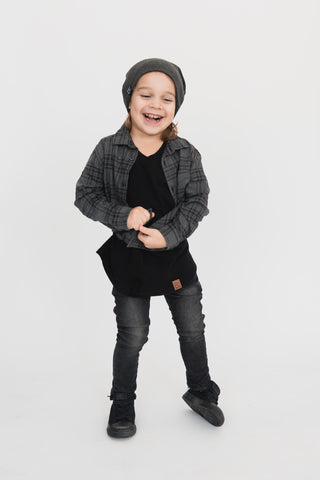 Children's Organic Long T-Shirt
Regular price $31.99 from $15
Sale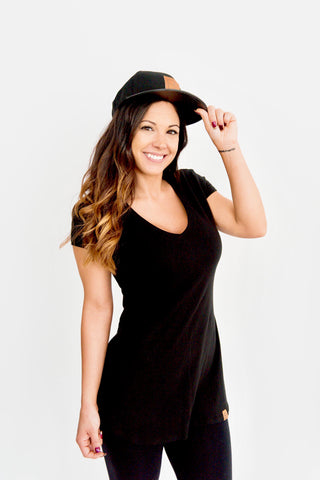 Regular price $44.99 Sale price $19.50